Aimee Challenor
Aimee/Ashton Challenor (aka Aiobheann Challenor and Aimee Knight), a male who identifies as a trans woman, was arrested in February 2013 (then aged 15) on suspicion of threatening to launch a cyber attack on Birmingham's Bullring Shopping Centre.
Challenor was bailed until May 2013 on suspicion of blackmailing a corporation and has since admitted being attached to Anonymous at the time. The charges were eventually dropped. Via video, Challenor allegedly threatened to launch a Distributed Denial of Service (D-DOS) attack – a criminal offence intended to prevent access to an online service.
Contemporary coverage on Coventry Live from 2013 states that "The charges stem from a protest held by internet activists Anonymous at the venue in January. The 15-year-old alleges he was attacked by security guards. In retaliation, he is said to have posted a video on YouTube threatening to crash the shopping centre's website – unless he got an apology."
@ChallenorA your solicitor needs you to be in crown for 8.30

— Paul Stephens (@pstephens999) April 16, 2013
Challenor is a vociferous trans activist and the Equalities LGBTIQA+ spokesperson for the UK Green Party, and stood as a Green Party candidate in the UK general election in June 2017 and the 2018 local elections.
At a Parliamentary Committee on Standards in Public Life hearing in September 2017, Challenor is asked whether political parties should have a responsibility to show leadership in setting the tone for public debate and answers in the affirmative (with no trace of irony given the below example of a typical post on Twitter) that "They should be leading by example. We should be in a society where we teach to treat each other with respect."
So glad you educated me re "TERF" not being a slur Aimee. O/wise might have thought u were trying to bad-mouth me pic.twitter.com/uS9ePHBNzH

— Andy Healey (@djandyhealey) February 25, 2016
In March 2018, Challenor bragged about the creation of a blocklist created to block 50,000 women on Twitter who question transgender ideology.
*Update 27 Aug 2018*
Aimee Challenor stood down from from the Green Party deputy leadership election after an article in The Sunday Times questioned why Aimee's father David Challenor had been employed as Aimee's election agent while he was awaiting trial for a catalogue of horrendous sexual and violent offences against a ten year old girl, while dressed as a young girl himself.
A party spokesperson initially asserted to The Times that Aimee Challenor was "unaware of the crimes and would not step aside" but a subsequent statement issued by Aimee stated that "I did not know about the full details of the crimes my father has been found guilty of until very recently." The statement fails to acknowledge Aimee's own actions in employing David Challenor as a contributory factor in resigning.
The Green Party later issued another much stronger statement confirming the the party is "urgently reviewing its disclosure and safeguarding policies and procedures" and that Aimee Challenor "will not be undertaking any official Green Party roles while the party urgently looks into the circumstances which allowed this situation to arise". Aimee Challenor was still listed as a member of the party's executive committee at the time of writing. 
Further discussion of David Challenor's involvement in Aimee's political activities is available in this post along with a full list of links to media coverage.
While David Challenor's trial was ongoing in August 2018, Aimee Challenor was providing quotes to the media criticising feminist activists over a guerrilla campaign involving stickers saying "Women don't have penises".
In light of David Challenor's appalling offences against a young girl it is extremely distressing to revisit a radio interview from February 2018 discussing Equality Act exemptions which allow Women's Aid/Rape Crisis to exclude transgender women from working as staff e.g. in helpline/counsellor roles. In the interview, Aimee Challenor refuses to acknowledge that women and girls who are survivors of sexual and/or domestic violence need space to heal away from male-bodied and male-socialised people in women-led refuges and Rape Crisis centres. The very support needed by David Challenor's young victim and many, many thousands of women and girls every year.
*Update 28 Aug 2018*
Caroline Lucas, co-leader of the Green Party took to Twitter to clarify Aimee Challenor's remark re "working with the Party" on investigating the circumstances of how David Challenor came to act as Aimee's election agent. Aimee was understood to still not be suspended by the party (at the time of writing) and there has been no clarification on whether access to party files and IT systems have been revoked while the investigation is ongoing.
I am absolutely not aware this is the case and have called for an investigation led by someone independent and with the results shared publicly. We need full transparency and accountability.

— Caroline Lucas (@CarolineLucas) August 28, 2018
A statement by Coventry Pride following David Challenor's conviction clarified his involvement and states:
"The Trustees were made aware of criminal proceedings being taken against Mr Challenor in November 2016. A directive was issued to those responsible for volunteer recruitment that Mr Challenor was not to be accepted as a volunteer at the Charity's events and if he attended public events organised by the Charity he was monitored by the trustees."
As a trustee of Coventry Pride in both 2016 and 2017, Aimee Challenor was therefore party to knowledge of the offences David Challenor had been charged with, seemingly in conflict with the statement issued the previous day saying "I did not know about the full details of the crimes" and the day before being ""unaware of the crimes". Nevertheless Aimee's own blog reveals that David Challenor attended a Coventry Pride event in June 2017 as a photo credit on the site is attributed to "Baloo Challenor" when Aimee was well aware of the directive issued.
It remains to be seen how Coventry Pride were made aware of the criminal proceedings but the Green Party apparently were not until sentencing in August 2018. Or, for that matter, why none of the Coventry Pride trustees could have notified the Green Party of concerns using safeguarding procedures.
*Update 31 August*
Aimee Challenor was finally suspended from the Green Party five days after The Sunday Times published an article noting that David Challenor was employed as Aimee's election agent after having been charged with appalling sexual offences against a ten year old girl. In the first line of the statement the suspension is described as being on a "no fault basis" and that "a number of complaints […] have been made against her."
The statement is in stark contrast to how the Green Party announced the suspension of Olivia Palmer (the Green Party general election candidate for Esher and Walton in 2017) for 'misgendering' a male who identifies as a trans woman. No mention of a no fault basis or due process. (h/t @SwearyGodmother)
Link to third Green Party statement on Aimee Challenor here. Link to statement re Olivia Palmer here
A statement of solidarity with Aimee Challoner was shared on the Green Party Women's Facebook page (archived here) which appears to suggest Aimee Challenor did inform the Green Party about David Challenor's arrest in November 2016 but the party did not retain the information. No mention of Aimee Challoner's presumed knowledge of Coventry Pride's safeguarding measures regarding David Challoner is made.
The statement reads "In its support of Aimee the Party should have made clear that she was in care/supported independent living and therefore not living at home during the period the police have stated the crimes took place. Aimee was similarly not living at home when her father was charged in November 2016. However, what little information Aimee had about the charges she shared with the Party at that time, as is now fully apparent. We call for any subsequent statements by the Party to publicly acknowledge this. How this information was not retained by the Party will hopefully become clear & lessons learnt in the investigation."
The @GreenPartyAimee Twitter handle was was changed to @AimeeChallenor (ie the Green Party credentials removed) and a further statement from Aimee Challenor issued. It mentions vaguely that "circumstances have forced me away from the Greens" rather than in any way acknowledge personal actions having consequences.  
See this post on David Challenor for a full list of links to media coverage.
No information on whether Tina Challenor has been suspended is available, although she also stood for the Green Party in local elections in May 2018 and was aware her husband was awaiting trial as she appeared as a defence witness. 
*Update 6 December*
The editor of Left Foot Forward reports that Verita's investigation report is delayed as the original timetable for publication was November 2018. He also notes that its findings may not be made public. Verita were appointed by the Green Party to conduct an independent investigation into the circumstances surrounding how David Challenor was able to act as Aimee Challenor's election agent while facing charges for serious sexual offending against a child.
Statement from Verita on Aimee Challenor investigation suggests the party could decide not to publish, which would cause an outcry. No word from Green Party yet as to a proposed publication date

— Josiah Mortimer (@josiahmortimer) December 6, 2018
Further update: Verita expected to send final investigation report to Green Party in the 'next two weeks' (making publication unlikely pre-Christmas)

— Josiah Mortimer (@josiahmortimer) December 6, 2018
*Update 10 January 2019*
Verita's investigation was finally published and reveals grave concerns with the Party's safeguarding procedures. In particular, Aimee Challenor is criticised for failing to supply vital pieces of information to the Green Party regarding David Challenor being charged (and subsequently convicted) of multiple sexual offences against a child. Essentially, Aimee did inform two senior national Party leaders (Clare Phipps and Matt Hawkins) via an informal Facebook message that David Challenor had been charged with 22 (mainly sexual) offences but neglected to mention that the victim was a child, and also did not mention that he was a member of the Green Party.
This failure to recognise safeguarding red flags meant no action (such as the national team informing the local Green Party in Coventry or suspending David Challenor from the Party) was taken to protect children and vulnerable adults during the almost 2 years between the charge and conviction of an extremely dangerous, violent sex offender. With such a cavalier attitude to safeguarding, it is unfortunately entirely likely that other children could be at risk from sexual predators in the Party. The report also highlights the difference between Coventry Pride's actions to immediately safeguard their membership when Aimee informed them that David Challenor had been charged as they a) knew he was in a position to access vulnerable members and b) had robust safeguarding procedures in place. 
The executive summary of the Verita report is here 
A leaked copy of the full report (only made available to Green Party members) is here
(h/t Mumsnet https://www.mumsnet.com/Talk/womens_rights/3474311-Veritas-report-due-tomorrow-Thursday-at-midday-re-Aimee-Challenor?pg=10)
"from our conversations with her it is clear that Aimee Challenor did not demonstrate a clear understanding of safeguarding & still does not see the safeguarding issues that this case gave rise to"
(Verita)#Challenor #Stonewall #Safeguarding

— Andy Healey (@djandyhealey) January 10, 2019
Though not coming under the scope of the Verita report, it should also be remembered that multiple Green Party senior leaders consistently ignored, denigrated and allowed the exclusion of the whistleblower who consistently expressed concerns about Aimee & David Challenor. In the below screenshot, Sian Berry (now Green Party leader) and Amelia Womack insinuate Andy Healey's raising of safeguarding concerns amounted to harassment.
A reminder that the Green PartyEW's current Leader & Deputy both made it very clear that Aimee Challenor was absolutely untouchable#Challenor #Whistleblowing pic.twitter.com/geSAfTB0ux

— Andy Healey (@djandyhealey) January 10, 2019
*Update 13 January 2019*
Andrew Gilligan writing in The Sunday Times reveals further details from the full Verita report revealing the serious safeguarding implications of Aimee Challenor failing to inform the Green Party that David Challenor was a member and therefore having access to "young activists and members' children at events that included a picnic only weeks before his trial". Aimee Challenor must have known (as a trustee) that Coventry Pride had taken immediate safeguarding action to prevent David Challenor accessing their members but somehow didn't consider that the local Coventry Greens also needed to be party to this information in order to similarly act. 
Gilligan also notes the report's revelation that neither of the senior Greens (Clare Phipps or Matt Hawkins) passed the scant information Aimee provided to anyone within the party. The report notes that as friends of Aimee "their first instinct was to protect Aimee". However, we are presumably expected to accept that at no time in the two years between charge and conviction of David Challenor neither of these two friends and protectors of Aimee knew he twice acted as the Green Party election agent of their young protégé. In fact, Clare Phipps worked with David and Aimee Challenor in 2017 to pursue Andy Healey (the Green Party activist who tried to raise safeguarding risks and was suspended by the party) via a silencing civil injunction; Mr Healey's Twitter feed reveals the statement she submitted to the court.
In the interests of transparency & because it didn't come under Verita's remit, here is Clare Phipps 6 pages of 'evidence' for Aimee Challenor's attempted silencing civil injunction against me#Challenor pic.twitter.com/37sFD4aVnl

— Andy Healey (@djandyhealey) January 11, 2019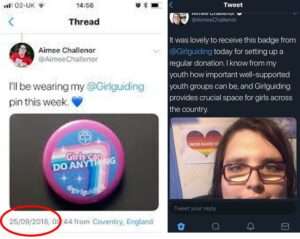 Despite a demonstrably egregious ignorance of safeguarding, at the time of writing, Aimee Challenor remains on the trans advisory group of Stonewall and therefore in a position to influence their input into policies and safeguarding at public institutions (e.g the police) and organisations for children like the Girl Guides. It is sobering to note that Aimee Challenor continues to be given a platform to discuss female-only service provision at women's refuges/Rape Crisis and hold an advisory position at Stonewall which consults for statutory agencies responsible for safeguarding (such as the police) while those trying to raise safeguarding risks are silenced and marginalised – such as the Green Party's Andy Healey or Girl Guide leaders Helen Watts and Katie Alcock  – who were expelled in September 2018 for raising safeguarding concerns about Girl Guides' trans policies. Challenor's gloating tweet from the time can be seen to the right.
*Update October 2019*
The Coventry Observer reports that having been recruited as a diversity officer by the Liberal Democrats, Aimee Challenor was removed from the post after the national party launched an investigation into "fresh complaints, internet allegations and safeguarding concerns." The Liberal Democrats national party refused to clarify whether Challenor still has any other party role, saying its internal procedures are confidential. One source told the paper that Challenor had been "suspended" pending the outcome of the investigation. At the time of writing, the Coventry Liberal Democrats still listed Challenor as Diversity Officer.
The investigation was prompted by multiple complaints from members of the public related to serious safeguarding concerns that arose from posts that an account belonging to Challenor's (male) partner had apparently made on Twitter which described fantasies about the sexual abuse of children. Challenor alleged to the the paper that the Twitter account had been hacked.
The Daily Mirror also reports that Prism, a police-backed organisation for LGBT youth in Coventry, has also come under severe criticism for working with Challenor, given the concerns raised by the Verita report into the Green Party's safeguarding procedures in the wake of David Challenor's conviction for the rape and torture of a child.  The report stated that "from our conversations with her it is clear that Aimee Challenor did not demonstrate a clear understanding of safeguarding & still does not see the safeguarding issues that this case gave rise to".
Prism told the Coventry Observer that Challenor's partner had never had any involvement in any form with Prism LGBTQ+ and had not attended any sessions or activities.
As of October 2019, Aimee Challenor's name appears to be removed from the page detailing Stonewall's Trans advisory group. However the page also states that some members of the group elect to remain anonymous.
*Update 9 November 2019*
Media reports in the Coventry Observer and The Sunday Times confirm that Aimee Challenor has been suspended by the Liberal Democrats relating to posts from a Twitter account belonging to Challenor's American fiancé, Nathaniel Knight. Bearing in mind David Challenor's conviction, it is even more chilling to learn that one of the posts read "I fantasise about children having sex, sometimes with adults, sometimes with other children, sometimes kidnapped and forced into bad situations."
Challenor alleges that Nathaniel Knight's account was hacked.
FRONT PAGE: EXCLUSIVE: LGBTQ+ activist no longer in Liberal Democrats post amid probe into sick tweets – https://t.co/EpCM9VdtTB pic.twitter.com/OtnNaySyQw

— Coventry Observer (@covobservernews) November 7, 2019
For further reading on Aimee Challenor's alleged association with various adult baby and furry fetish communities, see these posts here and here on Graham Linehan's Substack (warning – the posts cover deeply disturbing and unpleasant evidence that is not for the faint hearted). 
Watch this video to hear the feminist Sheila Jeffries analysing how abusive men are endeavouring to establish adult baby fetishes as a marginalised sexual identity rather than a paraphilia.
*Update March 2021*
Aimee Challenor was fired from a Reddit administrator post after a mass protest by users in solidarity against suspected censorship of a popular community (r/ukpolitics). A user had shared an article that mentioned Aimee Challenor by name and the article was removed and the moderator banned. The team running r/ukpolitics said in a statement: "It became apparent that Reddit has hired this individual [Challenor] as a Reddit admin, and were banning people from discussing her past to protect their employee from harassment." Reddit's CEO was subsequently forced to admit they did not adequately check Challenor's background before making the job offer. Further info available in this Newsweek article
*Update April 2022*
Katie Alcock (one of the Girlguiding Leaders expelled for raising safeguarding concerns about their trans policies – see above) sued the organisation for discrimination and settled out of court in April 2022. This followed Maya Forstater's successful appeal case which established that gender critical beliefs are protected under the Equality Act. Media reports here, here and here.
In November 2021 a teacher and mother was questioned under caution by Merseyside Police for raising safeguarding concerns to Girlguiding UK about Monica Sulley, a trans-identified male Girlguiding commissioner. The woman had written expressing concern after photos emerged of Sulley dressed as a dominatrix and wielding an assault rifle  – i.e. unbelievably, it appears the woman was reported to the police for raising her concerns and they were considering charging her under the Malicious Communications Act. Following an investigation into allegations of a breach of conduct, Sulley resigned from Girlguiding in February 2022. Media reports here and here.

Media reports
Spectator https://www.spectator.co.uk/article/reddit-aimee-challenor-and-a-disturbing-insight-into-the-trans-debate  archive
Metro https://metro.co.uk/2021/03/25/reddit-protests-who-is-former-admin-aimee-challener-14303188/  archive
Feminist Current https://www.feministcurrent.com/2019/07/24/why-is-aimee-challenor-still-advising-stonewall/  archive
The Coventry Observer https://coventryobserver.co.uk/news/front-page-exclusive-lgbtq-activist-no-longer-in-liberal-democrats-post-amid-probe-into-sick-tweets/  archive
The Sunday Times https://www.thetimes.co.uk/article/transgender-campaigner-suspended-by-lib-dems-t8wtlp2j0   archive 
The Coventry Observer https://coventryobserver.co.uk/news/exclusive-transgender-activist-aimee-challenor-no-longer-in-coventry-lib-dem-post-amid-investigation-into-safeguarding-complaints/ archive
Daily Mirror https://www.mirror.co.uk/news/uk-news/charity-criticised-handing-senior-role-20731388  archive
Sunday Times https://www.thetimes.co.uk/article/green-high-flyer-hid-father-s-rape-charges-kdhrfhll3    archive 
BBC https://www.bbc.co.uk/news/uk-england-coventry-warwickshire-46838540  archive
The Guardian https://www.theguardian.com/politics/2019/jan/12/green-party-failed-to-properly-investigate-child-abuser-report   archive
Conatus News https://conatusnews.com/green-party-verita-report-challenor/
Coventry Live https://www.coventrytelegraph.net/news/coventry-news/green-party-general-election-transgender-13092743 archive 
Coventry Live https://www.coventrytelegraph.net/news/coventry-news/coventry-boy-arrested-over-bullring-3014757 archive
The Spectator https://blogs.spectator.co.uk/2018/08/aimee-challenor-and-the-danger-of-transgender-politics/  archive
The Sunday Times https://www.thetimes.co.uk/article/rising-greens-star-aimee-challenor-will-not-quit-over-rapist-father-kngjwc8l5   archive
Mumsnet https://www.mumsnet.com/Talk/womens_rights/3346800-Andrew-Gilligan-Sunday-Times-Challenor-Green-Party?pg=1
Daily Mail http://www.dailymail.co.uk/news/article-6100645/Green-Party-star-quits-hiring-father-despite-knowing-stand-trial-rape.html  archive
Metro https://metro.co.uk/2018/08/26/green-politician-pulls-out-of-deputy-leadership-race-over-child-rapist-father-7884459/  archive
Mumsnet https://www.mumsnet.com/Talk/womens_rights/3439055-Shahrar-Ali-Blows-Whistle-on-Greens-malpractice-wrt-transphobia