David Challenor
5 years ago
Posted in:Assault/Wounding, Child Sexual Abuse, Kidnap/Abduction, Possession of CSA images, Rape / Sexual Assault, Sexual Offences, Torture, Violent Offences
Author: melodie
Tags: 10+ years imprisonment, 15+ years imprisonment, 5+ years imprisonment, Adult Baby, Aged 50-59, Aimee Challenor, Animal cruelty, Animal victim, Autogynephilia, Autopaedophilia, Baloo Challenor, Birmingham, Child victim, Convicted 2013, Convicted 2018, Coventry, Crossdressing while offending, David Challenor, Extreme violence, Female victim, Fetish, Offended 2013, Offended 2015, Pride, Trans activist, Transvestite, Victim impact statement, West Midlands, Women's/child's underwear, Worked with children
David / Baloo Challenor, a violent male transvestite, was convicted of multiple violent sexual offences against a young girl (aged 10 years old) in August 2018. His convictions included false imprisonment, rape, gross indecency, assault by penetration, indecent assault and assault causing her actual bodily harm plus convictions related to indecent images of children.
Challenor was jailed at Warwick Crown Court for 19 years for the offences against the child, with a consecutive three-year term related to the indecent images, and was ordered to register as a sex offender for life.
According to The Sun the court heard Challenor, 50, "would dress up as a small girl in adult-sized baby dresses and nappies before carrying out the sickening attacks at his Coventry home." The court heard he had "medical issues" and "various sexual fetishes and fantasies" including dressing up as a small girl named Lucy.
Sentencing Challenor the judge said: "It is hard to comprehend how you could behave with such depravity. The harm done by you to her is hard to overestimate." The victim's impact statement was read to the court after the guilty verdicts were returned describing how she had been traumatised by his violence against her.
Challenor was also convicted in 2013 of "failing to provide suitable environments for two corn snakes, a bearded dragon, two cats, three dogs, a hamster, two hedgehogs and two rabbits." He was jailed for 12 weeks, suspended for 12 months, with 200 hours' unpaid work, and told to pay an £80 victim surcharge and £500 costs.
Watch this video to hear the feminist Sheila Jeffries analysing how abusive men are endeavouring to establish adult baby fetishes as a marginalised sexual identity rather than a paraphilia.
Anyone concerned about a child can contact the NSPCC Helpline in confidence on 0808 800 5000.
**Update 25 Aug 2018**
The UK Green Party issued a statement presumably intended to address serious questions raised following David Challenor's conviction in relation to his continued party membership and employment as Aimee Challenor's election agent in 2017 and 2018 after being charged with multiple sexual and violent offences against a young girl (David Challenor is the father of trans activist and candidate for Green Party deputy leader, Aimee Challenor). The statement asserts that the Party knew nothing of David Challenor being charged with such heinous crimes until his conviction was publicised and therefore this, in turn, raises serious questions regarding party officials' understanding of safeguarding procedures and responsibilities; Aimee Challenor is currently Equalities LGBTIQA+ Spokesperson for the Greens.
**Update 26 Aug 2018**
Following an article in The Sunday Times, Aimee Challenor stepped down from the deputy leadership election after initially refusing to resign. A party spokesperson also asserted that Aimee Challenor was "unaware" of David Challenor's offending.
Article extract: "This weekend Aimee Challenor offered no comment but a party spokeswoman said the candidate had been unaware of the crimes and would not step aside."
Aimee Challenor quits as Green deputy leadership candidate after our story; also, at least for now, from other party roles. Now says she didn't know "the full details" of her father/election agent's crimes.

— Andrew Gilligan (@mragilligan) August 26, 2018
Aimee Challenor's statement can be read here (archive). A further statement from the Green Party confirming it is "urgently reviewing its disclosure and safeguarding policies and procedures" and that Aimee Challenor "will not be undertaking any official Green Party roles while the party urgently looks into the circumstances which allowed this situation to arise" can be read here (archive).
Tina Challenor (Aimee's mother and David's wife) also is a Green Party member and stood for election to Coventry Council in May 2018. Even if Aimee was unaware of David's offending until conviction, Tina Challenor was aware and appeared as a witness at his trial, corroborating what Challenor described in court as the supposedly legitimate uses of each of the items found in the attic where he raped and tortured the child, as reported in the Daily Mirror.
A (since deleted) comment from the Disclosure & Barring Service (DBS) in reply to queries as to how David Challenor may have held positions which would ordinarily be closed to someone with conviction(s) or on bail for such serious charges.
The Sunday Times article also reports that David Challenor worked as an assistant Scout leader and volunteer with a children's gymnastics group which raises further grave questions regarding the safeguarding procedures and DBS checks which should have prevented Challenor from certain roles as he had a previous conviction, his children had been taken into care and he was charged with the most grave offences against a child. The dates he worked for these organisations is unclear. Aimee Challenor has advocated for the controversial policy adopted by the Girl Guides to allow boys to self-identify as girls and therefore access female showering and sleeping facilities at camp without informing parents that their daughters will effectively be staying in mixed-sex accommodation.
David Challenor's involvement in design work for the Green Party's national lesbian, gay, bisexual and transgender campaign is also detailed in The Times and Aimee Challenor's blog indicates he attended a talk on trans issues that Aimee gave to Coventry University students in November 2016. Speculation on social media also alleges links between David Challenor – an IT specialist – to the tool which Aimee promoted to block 50,000 Twitter users (mostly women) who question transgender ideology, particularly the inherent risk within self-identification of gender that abusive men could exploit to access vulnerable women and children.
A Green Party activist has also written of Aimee and David Challenor's attempts to silence his questioning of the party's policy of self declaration of gender;
Having spoken against gender-id motions at both GP conferences in 2016 I was unable to do so at this one as I was in court defending an attempted silencing civil injunction brought by Aimee, supported by #DavidChallenor https://t.co/IGUIIeCfXu

— Andy Healey (@djandyhealey) August 26, 2018
Injunction claimed 'harassment' ('mis-gendering' essentially)
AC also tried to initiate a criminal prosecution against me for 'harassment aggravated by hate on basis of gender-id' which the police eventually rejected as nonsense fortunately

— Andy Healey (@djandyhealey) August 26, 2018
Bringing a civil injunction costs £250 I believe. AC was invited by judge to claim costs & mentioned cost for him & dad hiring a car to deliver injunction to me in person. Claimed no lawyers used

— Andy Healey (@djandyhealey) August 26, 2018
AC also managed to get me suspended from GP for 8 months which conveniently stopped me from speaking against motions at the last 2 conferences

— Andy Healey (@djandyhealey) August 26, 2018
A post by another (now former) Green Party member who was suspended immediately and subsequently expelled after she referred to a biological male as a man has written here of her concerns regarding Green Party procedures, commitment to safeguarding and their silencing of feminists expressing concern about self-declaration of gender. She is also deeply concerned that "there could be more victims, the party needs to investigate whether other individuals were put at risk by this man being an election agent and resident at their Coventry HQ".
David Challenor is also believed to have worked for Coventry Pride. The Twitter handles being addressed in the below tweet are Aimee Challenor (@aimeec110) and David Challenor (@AnoldarchDevil).
@aimeec110 & @AnoldarchDevil Good Luck, I sense a @pridecov team for @coventryhalf #running #RedCupCheer https://t.co/UAWpMi4K1c

— Coventry Pride 🏳‍🌈🏳️‍⚧️ (@PrideCov) November 28, 2015
No coverage of David Challenor's conviction or Green Party involvement has appeared on the BBC at the time of writing. The Guardian finally covered the story a day after other outlets.
David Challenor (as Baloo Challenor) also signed a letter initiated by Aimee Challenor in support of the Mermaids charity after the media reported that a high court judge had ordered a child should have no further contact with the organisation. List of signatories here.
In 2016, the Daily Mail revealed how a court had ruled a mother raising her son as a girl against his will must have no more contact with Mermaids who colluded with her delusion. Aimee Challenor's letter #StandwithMermaids was signed by Baloo Challenor. pic.twitter.com/Sx4YyZaOVI

— SunMum (@Mum3Sun) August 27, 2018
*Update 28 Aug 2018*
A statement by Coventry Pride following David Challenor's conviction clarified his involvement and states:
"The Trustees were made aware of criminal proceedings being taken against Mr Challenor in November 2016. A directive was issued to those responsible for volunteer recruitment that Mr Challenor was not to be accepted as a volunteer at the Charity's events and if he attended public events organised by the Charity he was monitored by the trustees."
As a trustee of Coventry Pride in both 2016 and 2017, Aimee Challenor was therefore party to the offences David Challenor had been charged with, seemingly in conflict with the statement issued the previous day saying "I did not know about the full details of the crimes" and the day before being ""unaware of the crimes". Nevertheless Aimee's own blog reveals that David Challenor attended a Coventry Pride event in June 2017 as a photo credit on the site is attributed to "Baloo Challenor" when Aimee was well aware of the directive issued.
It remains to be seen how Coventry Pride were made aware of the criminal proceedings but the Green Party apparently were not until sentencing in August 2018. Or, for that matter, why none of the Coventry Pride trustees could have notified the Green Party of concerns using safeguarding procedures.
*Update 31 August*
Aimee Challenor was finally suspended from the Green Party five days after The Sunday Times published the article noting that David Challenor was employed as Aimee's election agent after having been charged with appalling sexual offences against a ten year old girl. In the first line of the statement the suspension is described as being on a "no fault basis" and that "a number of complaints […] have been made against her."
The statement is in stark contrast to how the Green Party announced the suspension of Olivia Palmer (the Green Party general election candidate for Esher and Walton in 2017) for 'misgendering' a male who identifies as a trans woman. No mention of a no fault basis or due process. (h/t @SwearyGodmother)
Link to third Green Party statement on Aimee Challenor here. Link to statement re Olivia Palmer here
A statement of solidarity with Aimee Challoner was shared on the Green Party Women's Facebook page (archived here) which appears to suggest Aimee Challenor did inform the Green Party about David Challenor's arrest in November 2016 but the party did not retain the information. No mention of Aimee Challoner's presumed knowledge of Coventry Pride's safeguarding measures regarding David Challoner is made.
The statement reads "In its support of Aimee the Party should have made clear that she was in care/supported independent living and therefore not living at home during the period the police have stated the crimes took place. Aimee was similarly not living at home when her father was charged in November 2016. However, what little information Aimee had about the charges she shared with the Party at that time, as is now fully apparent. We call for any subsequent statements by the Party to publicly acknowledge this. How this information was not retained by the Party will hopefully become clear & lessons learnt in the investigation."
The @GreenPartyAimee Twitter handle was was changed to @AimeeChallenor (ie the Green Party credentials removed) and a further statement from Aimee Challenor issued (archive). It mentions vaguely that "circumstances have forced me away from the Greens" rather than in any way acknowledging personal actions having consequences.
No information on whether Tina Challenor has been suspended is available, although she also stood for the Green Party in local elections in May 2018 with David Challoner as her election agent, and was aware her husband was awaiting trial as she appeared as a defence witness.
It also emerged that the NSPCC failed to attend a scheduled Mumsnet webchat after the majority of questions were concerned with safeguarding and self-ID of gender, especially in light of safeguarding failures allowing David Challenor to work as an election agent for the Green Party in national and local elections and with the Scouts/girls' gymnastics.
This is interesting. @NSPCC arranged a webchat with Mumsnet users that was meant to take place today at 12.30pm. Mumsnet users were asked to submit questions. Unsurprisingly they were largely about safeguarding issues & the erosion of the rights of girls. @NSPCC didn't show up.

— Leya 🟥🟪⬜️🟩🟧 (@_Leyanelle_) August 30, 2018
*Update 1 Sep*
Green Party issues a statement announcing an independent organisation, Verita, will conduct an investigation into "the circumstances surrounding Aimee Challenor's father being able to act as her election agent while facing charges for serious sexual assault against a minor". The stated timeframe is to "aim is to deliver the final report by mid-November".
Link to statement here
Caroline Lucas also pledged to meet with Woman's Place (a feminist group set up to ensure women's concerns are heard in the debate over self declaration of gender) and another senior Green Party female member also called for dialogue with women and mentioned abuse of women trying to discuss safeguarding and raise concerns.
Completely agree and am already doing that. Am in contact with Women's Place & hope to meet next week

— Caroline Lucas (@CarolineLucas) September 2, 2018
A trans identified male, (Natacha Kennedy – previously reported in The Times as being behind a campaign to smear feminist academics), immediately tweets"In that case can I come along to observe when Caroline meets theses [sic] anti-trans activists?" interposing themself into a meeting where women discuss women's concerns while denigrating those women. "Observe" indeed.
https://twitter.com/natachakennedy/status/1036345903605587968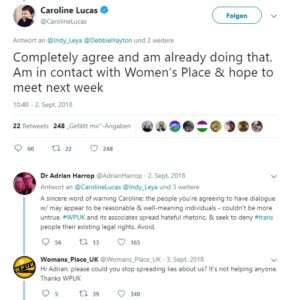 Other male trans activists also immediately sought to denigrate the women Caroline Lucas proposed to meet, including disgraced GP, Dr Adrian Harrop (archived link here). Dr Harrop subsequently had his medical licence suspended by the Medical Practitioners Tribunal Service in 2021 after posting a series of 'highly offensive' and misogynistic messages targeting women he disagreed with on Twitter, including JK Rowling.
*Update 10 January 2019*
Verita's investigation into the circumstances surrounding how David Challenor was able to act as Aimee Challenor's election agent while facing charges for serious sexual offending against a child, was eventually published on 10 January 2019. It details a series of failures to act and worrying ignorance of safeguarding procedures – in short, Aimee Challenor used Facebook to informally alert two members of the Green Party NEC (Matt Hawkins and Clare Phipps), that their father was being charged with 22 offences – 'the majority of them sexual'. Hawkins responded as though this was a potential PR issue for the press office to manage for Amy, and ultimately neither he or Phipps took any safeguarding action whatsoever. Verita note that this 'allowed Aimee to say afterwards that she had "told the party"', without fully ensuring action was taken.
Link to Verita report https://www.verita.net/wp-content/uploads/2019/01/green-party-report-web-publication.pdf
Media reports
Uncommon Ground https://uncommongroundmedia.com/green-party-verita-report-challenor/#
Mumsnet https://www.mumsnet.com/Talk/womens_rights/3439055-Shahrar-Ali-Blows-Whistle-on-Greens-malpractice-wrt-transphobia
The Spectator https://blogs.spectator.co.uk/2018/08/aimee-challenor-and-the-danger-of-transgender-politics/ archive
The Guardian https://www.theguardian.com/politics/2018/aug/31/green-party-launches-inquiry-as-it-suspends-aimee-challenor archive
BBC https://www.bbc.co.uk/news/uk-england-coventry-warwickshire-45373833 archive
Left Foot Forward https://leftfootforward.org/2018/08/green-party-launch-investigation-following-rape-conviction-of-deputy-leader-candidates-father-aimee-challenor/
The Sunday Times https://www.thetimes.co.uk/article/rising-greens-star-aimee-challenor-will-not-quit-over-rapist-father-kngjwc8l5 archive
Mumsnet https://www.mumsnet.com/Talk/womens_rights/3346800-Andrew-Gilligan-Sunday-Times-Challenor-Green-Party?pg=1
Daily Mail http://www.dailymail.co.uk/news/article-6100645/Green-Party-star-quits-hiring-father-despite-knowing-stand-trial-rape.html archive
Metro https://metro.co.uk/2018/08/26/green-politician-pulls-out-of-deputy-leadership-race-over-child-rapist-father-7884459/
The Guardian https://www.theguardian.com/politics/2018/aug/27/greens-rising-star-quits-deputy-leader-race-after-father-jailed-for archive
The Sun https://www.thesun.co.uk/news/7072573/twisted-rapist-kept-girl-10-in-torture-den-attic-where-he-whipped-and-gave-her-electric-shocks-while-dressed-in-nappy/ archive
The Sun https://www.thesun.co.uk/news/7085352/david-challenor-rapist-tortured-girl-whip-electrocuted-coventry/ archive
The Independent https://www.independent.co.uk/news/uk/crime/coventry-captive-girl-attic-torture-den-david-challenor-coventry-a8502991.html archive
Birmingham Live https://www.birminghammail.co.uk/news/midlands-news/evil-paedophile-jailed-22-years-15059929 archive
The Mirror https://www.mirror.co.uk/news/uk-news/sadistic-pervert-held-young-girl-13120115 archive
Metro https://metro.co.uk/2018/08/23/paedophile-dressed-up-as-baby-and-raped-girl-10-in-torture-den-7873346/ archive
Metro https://metro.co.uk/2018/08/23/first-look-inside-torture-den-where-paedophile-held-girl-10-captive-7877384/
Daily Mail http://www.dailymail.co.uk/news/article-6091221/The-torture-den-pervert-kept-girl-captive-acted-sadomasochistic-fantasies.html archive
UK & Ireland Paedophile Database https://uk-database.org/2018/08/22/david-challenor-coventry/
Previous coverage of David Challenor
Animal neglect/cruelty conviction coverage https://www.briefreport.co.uk/news/intimidation-through-facebook-among-cases-heard-by-coventry-magistrates-2215286.html archive
Daily Mirror https://www.mirror.co.uk/news/real-life-stories/moved-together-36-hours-after-5041659 archive
Coventry Live https://www.coventrytelegraph.net/news/coventry-news/car-chase-eyewitness-i-thought-13057704 archive