Gemma Hicks
Gemma Anne Hicks, a male who identifies as a trans woman, was convicted at Caernarfon Crown Court in December 2020 of attempting to engage in sexual communications with a child.
Despite the judge describing the offence as "extremely disturbing and troubling" and that the custody threshold had "clearly been crossed", Hicks was given an 18 month prison sentence, suspended for two years so that rehabilitation to prevent further sexual offending could be prioritised. A ten year Sexual Harm Prevention Order (SHPO) was also imposed.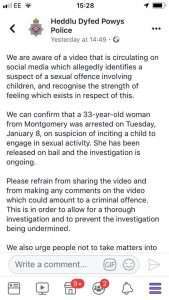 Hicks, 33, had made a friend request to a decoy Facebook profile posted by a group of paedophile hunters called Catching Online Predators – the profile made it extremely clear it was for a 13 year-old girl. During the online chat with a member of the group posing as the child, Hicks very quickly steered the conversation towards sex and replied "age is just a number".
The police were informed after the pedophile hunters went to confront Hicks. After refusing to provide police with access to their phone, Hicks' IP address was provided by Facebook and matched to Hicks' home address.
Hicks was referred to as a woman throughout local media coverage and by Dyfed police. Although the majority of comments on the paedophile hunter's facebook post recognise that the offender is male not female, some recognise the injustice of the offence being recorded in female crime statistics despite this type of sex offence against children being overwhelmingly committed by men not women.
*Update December 2023*
Feminist news source, Reduxx, reports that Hicks was arrested in December 2023 by a female police officer on suspicion of sexual communication with a child under 16 years old. Hicks had been confronted by a group of volunteer online predator hunters after sending disturbing sexualised messages to a 12 year-old girl's Facebook profile and arranging to meet her – the profile was actually a decoy set up by Children's Innocence Matters (CIM). One message reportedly read "I'll be honest, I'm sexually attracted to little girls" and  proclaimed an interest in entering female-only changing facilities to watch girls undress.
While waiting for the police to arrive, Hicks accused the paedophile hunters of "misgendering" and alleged that by doing so, they had committed a hate crime. 
Photo via Catching Online Predators
Media reports
Reduxx https://reduxx.info/uk-serial-pedophile-complains-about-being-misgendered-during-second-arrest-for-child-sexual-predation/ archive
Powys County Times https://www.countytimes.co.uk/news/19014346.woman-confronted-paedophile-hunters-montgomery-engaged-sexual-communication-child/ archive