Jade Anderson
Jade Anderson, a violent male who identifies as a transgender woman, was convicted at Keighley Magistrates' Court on 23 June 2023, of assaulting emergency workers. Anderson, 49, escaped a prison sentence and instead received a community order.
In the first offence, Anderson assaulted a paramedic at Bradford Royal Infirmary in April 2023 and a second charge on the same day of assaulting a police officer at the BRI.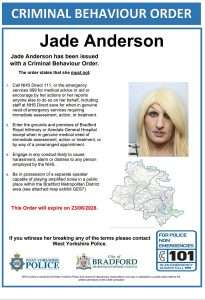 The terms of the five-year criminal behaviour order (CBO) reveal a pattern of previous threats and harassment directed at healthcare staff; Anderson must not call NHS Direct 111 or the emergency services on 999 for medical advice or aid, unless in genuine need of immediate assessment, action or treatment. Anderson must also not enter the grounds and premises of BRI or Airedale General Hospital except when in genuine medical need of immediate assessment, action or treatment, or by way of a pre-arranged appointment. Other terms include being banned from engaging in any conduct likely to cause harassment, alarm or distress to any person employed by the NHS or being in possession of a separate speaker capable of playing amplified noise in a public place within the Bradford Metropolitan District area.
Various media outlets described Anderson as a 'woman' and one (see Huddersfield Examiner) even neglected to mention the violence Anderson had subjected emergency workers to and just reported the terms of the CBO.
Other examples of violent trans-identified males who have offended against healthcare workers are available via this tag, and against police under this tag.
Image via West Yorkshire Police
Media reports
Telegraph & Argus https://www.thetelegraphandargus.co.uk/news/23616523.bradford-court-sentences-woman-emergency-worker-assaults/ archive
Yorkshire Live https://www.examinerlive.co.uk/news/west-yorkshire-news/jade-anderson-banned-playing-speaker-27302437 archive
ITV News https://www.itv.com/news/calendar/2023-07-12/woman-banned-from-carrying-speaker-and-attending-hospital archive