Lennon/Katie Dolatowski
5 years ago
Posted in:Assault/Wounding, Child Sexual Abuse, Rape / Sexual Assault, Sexual Offences, SOPO/SHPO breaches, Violent Offences, Voyeurism
Author: Trans Crime
Tags: Aged <20, Bail/probation hostel, Blamed mental health issues, Breached community order, CCTV, Child victim, Convicted 2018, Convicted 2019, Convicted 2022, Convicted 2023, Female victim, Fife, Get Out Of Jail Free card, HMP Cornton Vale, HMP Polmont, HMYOI Polmont, Katie Dolatowski, Lenient sentence, Lives with mother, Looked after child, Male victim, Media obscuring trans status, Mental health, Multiple victims, No GRC, No jail, Offended 2018, Offended 2019, Offended 2020, Offended 2021, Offended 2022, Offended 2023, Offended in female space, Offended while in custody, Photoshop/filters, Prisoner victim, Public toilet, Repeat offender, Scotland, Supermarket, Trans woman, Victim impact statement, Victim sex unknown, Women's Aid, Young Offenders Institute
Katie Dolatowski (aka Lennon Dolatowski/Alyanna McKenna), a violent male who identifies as a trans woman, was convicted of voyeurism and sexual assault at Kirkcaldy Sheriff Court in August 2018. Dolatowski, who was 17 at the time, had attacked two young girls in supermarket toilets in Dunfermline and Kirkcaldy.
In the first incident on 8 February 2018, Dolatowski had been to the toilets with a carer and was walking towards the exit when a young girl walked past. Dolatowski then returned to the toilets alone on a pretext and filmed the 12 year old child by holding a mobile phone over the cubicle partition. The girl shouted and the offender ran out of the adjacent cubicle. The police later viewed in-store CCTV footage and were able to identify Dolatowski and retrieve a 12-second video clip of the girl using the toilet from the defendant's iPad and phone, followed by footage of Dolatowski running away.
The second incident took place just weeks later on March 4. The court was told a 10-year-old girl had been inside the toilets while her father waited outside. He heard his daughter screaming and she then came running out of the bathroom saying that "a crazy man with long hair was in the bathroom and had grabbed her face and pushed her into a cubicle, before demanding she take her trousers off." The court heard that when the girl came out of her cubicle, Dolatowski had shoved her back in and told her there was a man outside who would kill her mother. The girl managed to punch Dolatowski in the face, stomach and groin and escape to her father and siblings waiting just outside the toilets. Her mother told the court that the girl was hysterical after the attack and continued to suffer flashbacks.
Police officers attended and found Dolatowski locked inside the cubicle in the female toilets. A male voice was heard coming from inside, saying: "I've been silly. I bumped into her. I've been silly."
The Sheriff initially placed Dolatowski on the sex offenders register and deferred sentencing for background reports. Despite posing a "moderate risk" of re-offending, at the sentencing hearing in January 2019 the Sheriff said: "I have come to the conclusion that the public will be better protected by the imposition of a stringent community payback order" and released Dolatowski from Polmont Young Offenders Institution to supported accommodation.
The court heard Dolatowski had been in the social care system since the age of three and had mental health issues. But the mother of the 10 year old girl said: "A lot of people have been in care but they do not go out and assault children. I don't care that he has issues or what his background is, he is a paedophile and he has been let out on a supervision order."
See also Ian Bullock, Mark Lazarus and Joel Hardman – three other trans-identified male sex offenders who have victimised women and girls in female public toilets in the UK.
In the initial coverage of Dolatowski's conviction, reporting was vague concerning trans status referring only to "the teenager" and avoiding pronoun use to obfuscate that the crimes were perpetrated by a male who identifies as transgender.
*Update February 2019*
It was revealed by the Dundee Courier that through the Multi-Agency Public Protection Arrangement (MAPPA) with police, NHS Fife and the Scottish Prison Service, Dolatowski had been placed in a hostel for vulnerable female offenders, despite being convicted of sex offences and not having a gender recognition certificate (GRC).
A spokeswoman for Women and Girls in Scotland said: "Katie Dolatowski has already taken advantage of access to female spaces to commit sexual assault. "It is absolutely unacceptable that this person was being given the same opportunity again.
It is understood Dolatowski was moved into other accommodation shortly after The Courier discovered where the sex offender had been placed.
*Update March 2019*
The Courier reports that Dolatowski, who is on an electronic tag, appeared in court in March 2019 after twice breaching the imposed community payback order (CPO) by failing to attend appointments. The terms of the CPO also include being placed on the sex offenders register, preventing contact with children and being ordered to perform 100 hours of unpaid work.
A social worker told the court they were concerned about a "heightened risk" of Dolatowski being involved in criminal activity after internet chat histories had been deleted from Dolatowski's phone so the court also imposed a ban on any future deletions.
Sheriff James Williamson said: "One of the worrying features in the report suggests that you have been accessing the internet and then trying to hide who you have been in contact with. "If you are now found to be hiding internet messages or social media outlets, that will be a breach and you will go to prison, or in your case a young offenders institute."
The Sun reports that the sheriff deferred sentence for consideration of the two CPO breaches and ordered Dolatowski to reappear on April 9 for a review.
*Update October 2022*
Dolatowski appeared at Kirkcaldy Sheriff Court on Tuesday 18th October after breaching the imposed sex offender notification requirement to inform police of any new addresses. Dolatowski, 22, admitted failing to notify police of a change of address between June 13 and September 9, 2022 having made the deliberate decision not to report a move back to Fife from Leeds (because that address would be unsuitable, presumably due to proximity to children).
Dolatowski again escaped a prison sentence- despite this being the third breach – and was instead placed on curfew for four months. The sheriff apparently emphasised it was a direct alternative to custody and further breaches could see Dolatowski jailed. 
The feminist news source Reduxx, reveals that the day after Dolatowski's appearance at Kirkcaldy Sheriff Court, local residents on the housing estate where Dolatowski's mother lives "surrounded the property and demanded he be removed for the safety of the community". The police attended and removed Dolatowski and unidentified others from the property. A resident is quoted as saying "Why they were housed in an estate where every house has two or more kids, most which are under 10 years old, is beyond me."  "We didn't know until a neighbour told us this morning. Nobody knew he was living there until he was spotted coming out the house with his mother."
Footage captured outside Kirkcaldy Sheriff Court reveal how large Dolatowski is – reportedly 6'5″ – and how little this violent sex offender resembles the cutesy, heavily filtered image used in the media.
Worryingly, media reports revealed that Dolatowski approached Women's Aid when seeking accommodation closer to home in Scotland, who advised their only accommodation was in Leeds. It beggars belief that Women's Aid could have placed Dolatowski – a convicted 6 foot 5 inch sex offender who has twice targeted young girls – within a refuge for women and children fleeing domestic violence. It can only be hoped that this abusive male sex offender merely managed to divert support resources meant for women and children, rather than actually being placed by a women's organisation in a position to sexually abuse vulnerable refuge residents. See the recent case of Shane Jacob Green who has used Canada's self-ID legislation to allegedly sexually assault a female refuge resident and the well known case of the dangerous sex offender Christopher Hambrook who was jailed indefinitely in 2014 for sexually assaulting two women in a Toronto refuge. 
*Update November 2022* 
An investigation by the Daily Mail revealed that Dolatowski used an alias – described as having 'official papers' to support it (issued by who?) – to access a refuge run by Leeds Women's Aid, and stayed there for 71 days before the deception was discovered. The refuge apparently has separate accommodation for trans service users but has a shared garden with the accommodation for vulnerable women and children.
A former refuge resident is quoted as saying that she came to the refuge with her children as she thought it was somewhere safe and that it was horrendous discovering a paedophile had been living there for months. The woman added: 'I saw her [sic] several times hanging around where the prams are parked, she [sic] is tall and skinny with long brown hair and always wore a blue surgical mask. The whole thing makes my skin crawl.' 
In a statement that is difficult to find on their website, Leeds Women's Aid attempted to deflect blame for creating the conditions that allowed a convicted male paedophile to be housed alongside vulnerable women and children seeking refuge from male violence. The statement says that Dolatowski 'used an identity, and related official documents in the same name, to access the refuge, and in doing so they concealed their previous convictions for child sex offences.'
Farah Nazeer, chief executive for the national organisation of Women's Aid, added: "This situation is a priority for us, alongside supporting our federation of local domestic abuse services." She added that the charity was exploring additional security mechanisms for the national federation in light of the incident.
Nik Peasgood, chief executive of Leeds Women's Aid, however, is quoted as saying '"We are appalled that someone with such crimes could come to a women's refuge using a different identity."  This is an alarmingly naïve ignorance of the lengths that male abusers will go to access women – and unforgiveable in someone responsible for safeguarding children – which has now allowed a convicted sex offender who has demonstrated their willingness to use deception to access their victims of choice, to do so once again.
You cannot keep women safe in refuges if males are housed in the same accommodation. Regardless of how those males identify.

I discuss this at some length in my book.#DefendingWomensSpaces https://t.co/Sg7X0QATCi

— Dr Karen Ingala Smith (@K_IngalaSmith) November 5, 2022
Chief executive of nia and founder of the Femicide Census, Karen Ingala Smith's timely book on defending women's spaces can be ordered here. It is described as a trenchant critique of inclusivity politics, that argues that we cannot ignore the wealth of evidence which shows that people of the female sex have a unique set of needs which are often not met by mixed-sex spaces.
Later in the month, Dolatowski was convicted at Falkirk sheriff court of assaulting a fellow male prisoner – Peter Patterson aged 20  – at Polmont Young Offenders' Institution on 22 January 2021; witnesses saw Dolatowski "holding Mr Patterson over a table and punching him to the back of his head". This assault was perpetrated while Dolatowski was serving a sentence from Glasgow sheriff court following yet another assault while staying in accommodation in the city. Dolatowski is due to be sentenced for the prison attack in January 2023.
However further furore arose as it emerged that Dolatowski is currently being held in HMP Cornton Vale – a women's prison in Stirling. The Courier reports that Dolatowski was back in the dock within two weeks of the restriction of liberty order imposed for breaching a sex offender notification requirement to notify police of any new addresses. A four-month prison sentence was imposed in place of the curfew at the start of November, with an earliest release date of December 30. Kate Coleman, director of the Keep Prisons Single Sex campaign group, said "It is just outrageous and completely inappropriate – nobody should agree that this is the right thing to do. Female prisoners are vulnerable – they have faced high incidences of domestic violence and sexual assault."
In December, STV published an in-depth report on the criticism the Scottish Prison Service (SPS) is facing over a decision to send a trans-identified male paedophile such as Dolatowski to a female prison against the backdrop of the highly controversial gender self-ID policy simultaneously being pushed through in Scotland and protests that feminists have staged outside HMP Cornton Vale. It should be remembered that one of the architects of Scotland's transgender prison policy, Gordon Pike, was subsequently revealed to be a sex offender after being convicted in 2018 of possessing 22,000 indecent images of children.
Is Katie Dolatowski who battered a male prisoner and used his self declared woman identity to gain access to Cornton Vale prison a violent male or a transwoman? https://t.co/PQrLoInvmz

— Mr Ben- Has Eyes, Uses Them (@crit_gen) November 24, 2022
*Update January 2023*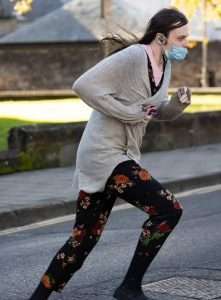 The Courier reports that Dolatowski appeared in court for sentencing for the prison attack in January 2023 and was handed a structured deferred sentence and released under strict conditions. The sheriff expressed grave concerns about Dolatowski's ability to comply with statutory supervision in the community, noting the defendant's "very lengthy" record and the extremely limited sentencing options available. She ordered Dolatowski to appear in court again on 16 March 2023 for a review hearing and warned "If you fail to comply it may well be that you will be returned to custody, Your record would certainly merit that."
*Update April 2023*
The Sun revealed that Dolatowski spent a night in custody after yet again breaking the curfew imposed under the SHPO to safeguard the public. The article reveals that Dolatowski apparently has another conviction for assault of a male in addition to the prisoner assaulted at HMYOI Polmont. Court papers detail that the name "Alyanna McKenna" (presumably Dolatowski's officially-supplied alias that has permitted entry to a female hostel and Leeds Women's Aid) was scored out on the latest charge sheet by hand and replaced with 'otherwise known as Katie Dolatowski'. Edinburgh Sheriff Court continued the breach of curfew case for further sentencing on two breaches of strict conditions until later in April. Dolatowski's father, Simon, is also quoted as saying he has washed his hands of his son Lennon/Katie and saying that "if you break [the rules], you should go to jail." The article also places the female pronoun 'her' in inverted commas in reference to Dolatowski.
Image credits: The Courier and Central Scottish News Agency via STV  and Alan Simpson Photography/Daily Mail
Media reports
The Sun https://www.thescottishsun.co.uk/news/10492612/trans-paedo-katie-dolatowski-dad-lock-him-up/  archive
The Courier https://www.thecourier.co.uk/fp/news/courts/4062580/dolatowski-deferred-sentence-polmont/
The Times https://www.thetimes.co.uk/article/d56968e6-96b9-11ed-91ab-4070465550ba  archive
STV https://news.stv.tv/west-central/scottish-prison-service-criticised-for-moving-trans-woman-katie-dolatowski-to-cornton-vale-stirling  archive
The Observer https://www.theguardian.com/commentisfree/2022/nov/27/nicola-sturgeon-will-endanger-women-if-she-opens-single-sex-spaces-almost-everone  archive
The Courier https://www.thecourier.co.uk/fp/news/courts/3890638/katie-dolatowski-prison-assault/  archive
The Courier https://www.thecourier.co.uk/fp/news/courts/3923884/dolatowski-cornton-vale-protest/  archive
The Times https://www.thetimes.co.uk/article/alex-massie-gender-reforms-will-open-doors-for-predators-wmk0k6zh9  archive 
The Times https://www.thetimes.co.uk/article/trans-prisoner-attacks-male-inmate-over-jibes-26vrbf93h  archive
Daily Telegraph https://www.telegraph.co.uk/politics/2022/11/27/jk-rowling-attacks-labour-support-nicola-sturgeons-gender-bill/  archive
Scottish Daily Express https://www.scottishdailyexpress.co.uk/news/scottish-news/trans-woman-battered-male-inmate-28511707  archive
Daily Mail https://www.dailymail.co.uk/news/article-11392601/Transgender-paedophile-caught-duping-staff-71-day-stay-domestic-violence-refuge.html  archive
Leeds Women's Aid statement https://leedswomensaid.co.uk/leeds-womens-aid-statement-nov-22/  archive
The Sun https://www.thesun.co.uk/news/20328727/transgender-paedophile-duped-staff-domestic-violence-refuge/  archive
The Courier https://www.thecourier.co.uk/fp/news/courts/3794587/dolatowski-move-fife-breach/  archive
The Courier https://www.thecourier.co.uk/fp/news/local/fife/848931/fife-sex-offender-back-in-court-after-breaching-community-payback-order/ archive 
Reduxx https://reduxx.info/transgender-pedophile-who-assaulted-10-year-old-removed-from-home-following-community-protest/ archive
The Sun https://www.thesun.co.uk/news/8647171/transgender-woman-sexually-assaulted-girl-morrisons/  archive
The Courier https://www.thecourier.co.uk/fp/news/local/fife/832849/warning-as-transgender-sex-offender-placed-in-womens-hostel/  archive
The Times https://www.thetimes.co.uk/edition/scotland/trans-sex-attacker-sent-to-female-hostel-c3vw35c06  archive
Scottish Sun https://www.thescottishsun.co.uk/news/3928585/transgender-sex-offender-female-only-fife-hostel-katie-dalatowski-furious-residents/  archive
The Courier https://www.thecourier.co.uk/fp/news/local/fife/702003/fife-teen-on-sex-offenders-register-after-supermarket-child-attacks/ archive
The Courier https://www.thecourier.co.uk/fp/news/local/fife/819644/mum-of-supermarket-toilet-sex-assault-victim-warns-freed-attacker-could-strike-again/ archive
The Times https://www.thetimes.co.uk/article/female-only-spaces-must-be-given-greater-protection-lkfx3w3d6  archive
The Scotsman https://www.scotsman.com/news/female-spaces-need-better-protection-after-trans-woman-sex-assault-on-girl-say-campaigners-1-4868945  archive
Mumsnet https://www.mumsnet.com/Talk/womens_rights/3496984-Article-in-Dundee-Courier-about-assault-of-10-year-old-girl-in-supermarket-toilets
Women Are Human https://womenarehuman.com/transgender-admits-restroom-sexual-attack-voyeurism-against-adolescent-girls-katie-dolatowski/  archive
Reddit https://www.reddit.com/r/ukpolitics/comments/anpwlj/femaleonly_spaces_must_be_given_greater_protection/
UK Paedophile Database https://uk-database.org/2019/02/16/katie-dolatowski-kirkcaldy-dunfermline/