Jessica Smith
Jessica Ann Smith, a male who identifies as a transgender woman, was convicted at Exeter Crown Court in April 2021 of three counts of attempting to incite a child to sexual activity and one of arranging to commit a child sex offence. Smith, 41, was sentenced to two years and 10 months in prison and placed on the sex offenders register for life.
Smith set up a fake profile on a social networking site called Skout reportedly "pretending to be a 20-year-old woman called Jasmine." Smith rapidly (within 10 minutes) turned conversations sexual and shared explicit sexual photos and encouraged sexual behavior with a profile they understood to be a 14 year old girl. In July 2018, Smith set up another similar profile on a different site and again started communicating with a 14-year-old girl and arranged for the child to visit their home near Sidmouth in Devon and bring along a 12-year-old friend. However, both profiles were, in fact, operated by a group of paedophile hunters called Justice for the Tears.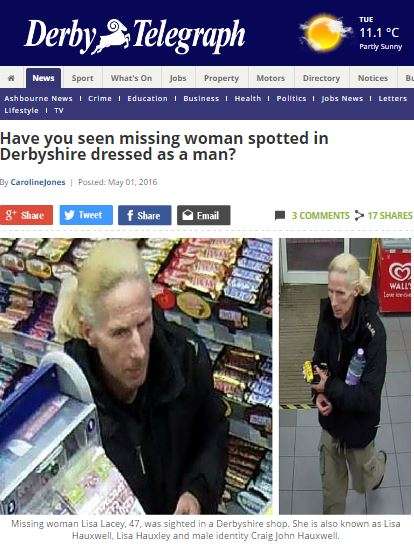 In the latest bizarre obfuscation of the sex of the offender in media coverage, Devon Live reported that "When people behind the profile arrived they saw a person dressed as a male peering through a hedge" who claimed to be a man who had been sent to fetch the child. See also The Derby Telegraph's headline from 2016 which read 'Have you seen missing woman spotted in Derbyshire dressed as a man?' when reporting that a trans-identified male rapist named Craig Hauxwell had gone on the run.
Smith's barrister told the court the defendant was "depressed and isolated at the time because of her complex gender identity issues and a sense of loss after family bereavements" and that "her use of pornography escalated and while it is no excuse, she was in a very bad place."
Image of Jessica Smith via Devon Live
Media reports
Devon Live https://www.devonlive.com/news/devon-news/paedophile-jailed-arranging-meet-child-5331212 archive
BBC https://www.bbc.co.uk/news/uk-england-devon-56861930 archive
Sidmouth Herald https://www.sidmouthherald.co.uk/news/paedophile-sentenced-following-sting-operation-7920000 archive