Katana Paris
4 weeks ago
Author: Trans Crime
Tags: Aged 20-29, Autogynephilia, Breached restraining order, Brighton, Convicted 2020, Convicted 2022, Convicted 2023, Coronavirus, England, Female victim, HCP victim, HMP Forest Bank, HMP Swaleside, Katana Paris, Law enforcement victim, Male victim, Manchester, Mental health, Multiple victims, No remorse, Nottingham, Offended 2020, Offended 2022, Prison Onset Gender Dysphoria, Reoffended while on licence/bail, Repeat offender, Reported as woman, Restraining order, Spitting, Suspended sentence, Sussex, Trans woman, Wig
Katana Paris, a violent male who identifies as a transgender woman, was convicted of two counts of sexual assault at Manchester Crown Court in 2023.
In September 2023, Paris, 27, was sentenced to six months in prison which was added to a 37 month sentence for a previous sexual assault of a nurse. The judge "I have read and considered a presentence report, and I am not convinced you have shown any significant remorse. It seems to me you regard what you did as being rather trivial."
The latest sexual assaults were perpetrated against two prison officers (one female, one male) while on remand for sexual assault at HMP Forest Bank, a men's category B prison in Salford. Paris is now at HMP Swaleside, a men's category B prison in Kent, and will be on the sex offender register for five years.
See this post for a full list of violent/sexually violent offences that other trans-identified males have perpetrated against prison officers and other prisoners. See this tag for other violent trans-identified males who have abused healthcare workers.
In 2020, Paris assaulted custody staff at Worthing Police Station, spitting at a male police officer during the height of the coronavirus pandemic. Appearing at Brighton Magistrates' Court, Paris was found to be in breach of a suspended sentence imposed for breaching a restraining order. On conviction for the assault and the breaches, the "flagrant disregard of court orders" ensured a three month custodial sentence was imposed. See this tag for other trans-identified males who have spat at police officers.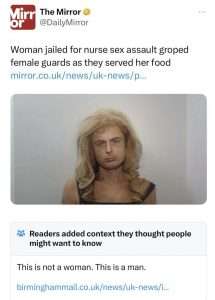 Paris reportedly has convictions for 87 offences, including sexual assault by touching; none of the media reports include the name under which this prolific offender was previously convicted, so the extent of previous sexual offending cannot be verified. Predictably, many articles referred to Paris as a 'woman' throughout and ludicrous tweets from e.g. The Daily Mirror describing Paris as a 'woman' received enormous numbers of replies asking them to report truthfully. Equally predictably, the Mirror eventually deleted their tweet describing Paris as a 'woman' after it was subject to a Community Note challenging their insulting nonsense (screenshot, right).
Image via Manchester Evening News/Greater Manchester Police
Media reports
Manchester Evening News https://www.manchestereveningnews.co.uk/news/greater-manchester-news/prisoner-groped-forest-bank-officers-27658613 archive
Daily Mail https://www.dailymail.co.uk/news/article-12486943/Sex-offender-identifies-woman-groped-prison-officers.html archive
Daily Mirror https://www.mirror.co.uk/news/uk-news/prisoner-jailed-nurse-sex-assault-30877302 archive
Daily Record https://www.dailyrecord.co.uk/news/uk-world-news/prisoner-groped-officers-food-jail-30876966 archive
The Argus https://www.theargus.co.uk/news/18639496.katana-paris-spat-police-worthing-custody-cells/ archive