Michael Farrow/Louise Ritson
Michael John Farrow/Louise Ritson, (aka Mika, aka Louise Farrow) a violent male who identifies as a trans woman was convicted in 2019 of the rape of a child under 13 and sentenced to 4 years 8 months in prison.
Farrow, 41, first identified as a trans woman while serving the sentence in HMP Holme House – a men's Category C prison in Co. Durham.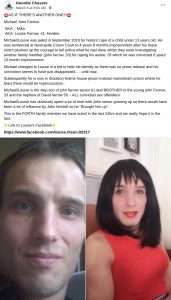 Contemporary media coverage of the trial or verdict could not be located under either the name Michael Farrow or Louise Ritson, but the conviction was revealed by a group of paedophile hunters (called Geordie Chasers) who were covering the police investigation into Farrow/Ritson's brother John Farrow, also for rape.
Both rapists belong to a family of violent male sex offenders living in and around Sunderland and preying on young girls and women:-
John Farrow, 33, (brother) was jailed for eight years and 10 months at Newcastle Crown Court on 18 March 2021 for the rape of a woman. In her victim impact statement, the women told the court that it was "the first thing that I think about when I wake up in the morning and it's the last thing that I think about before I go to sleep; it has impacted my life a great deal."
John Farrow, 61, (step-father) was convicted in 2020 for attempting to incite a child into sexual activity and engaging in sexual communication with a child.
David Farrow, (uncle) was sentenced to six years in prison in 2010 at the age of 45 for sexual activity with a child (a 14 year old girl) over a two-year period beginning in 2007. David Farrow also had a prior conviction for sexual violence against another female child twenty years previously. The detective in charge of the case commented that it was a "horrible, cynical offence where a man took advantage of a young girl and repeatedly sexually assaulted her."
Source: Women Are Human, photograph via Geordie Chasers
Media reports
Chronicle Live https://www.chroniclelive.co.uk/news/north-east-news/horden-rapist-jailed-after-crawling-17945017 archive
UK & Ireland Paedophile Database (David Farrow) https://uk-database.org/2016/05/29/david-farrow-hetton/ (archive) also available at https://www.pressreader.com/uk/sunderland-echo/20101218/282282431721983
UK & Ireland Paedophile Database (John Farrow) https://uk-database.org/2020/08/13/john-farrow-horden/ archive
Sunderland Echo https://www.sunderlandecho.com/news/crime/rapist-jailed-eight-years-and-10-months-after-sex-attack-woman-2450120 archive
Northern Echo https://www.thenorthernecho.co.uk/news/18645908.horden-grandad-wanted-daughter-child/ archive