Joe Brennan/@TownTattle
Joe Brennan, (aka @TownTattle) a male who identifies as a trans woman, used threatening and abusive behaviour and almost succeeded in physically assaulting the feminist writer and campaigner Julie Bindel, after she had given a talk in Edinburgh about male violence against women. Fortunately, a security guard was able to intervene and prevent Brennan from landing the punch.
In an article on 2 December 2019, The Scotsman reported that Brennan was issued with a Direct Measure by the Procurator Fiscal. Direct Measures can include fixed penalty fines, compensation orders, warnings or social work diversions.
As reported in The Scotsman, Julie Bindel reported that she was verbally abused, lunged at and almost punched in the face by a trans-identified male as she left an event at Edinburgh University organised by the Institute for Education, Teaching and Leadership. Ms Bindel had been the keynote speaker discussing male violence against women and the future of women's sex-based rights. Her account of the event can be read here. Predictably, trans activists had spent weeks trying to get the meeting of women discussing their rights cancelled.
Brennan, 25, appropriates the first name 'Cathy' from a well known American lesbian feminist named Cathy Brennan in order to harass her. We refuse to perpetuate this harassment by using her name to describe the accused.
Fears for the safety of female speakers at a second planned event after continued threats by violent male trans activists caused the meeting to be postponed.
Following a protest by the lesbian campaign group GetTheLOutUK at Pride in London in 2018, Brennan (a heterosexual male) called for violence against them and any other women who dare to assert that men cannot be lesbians.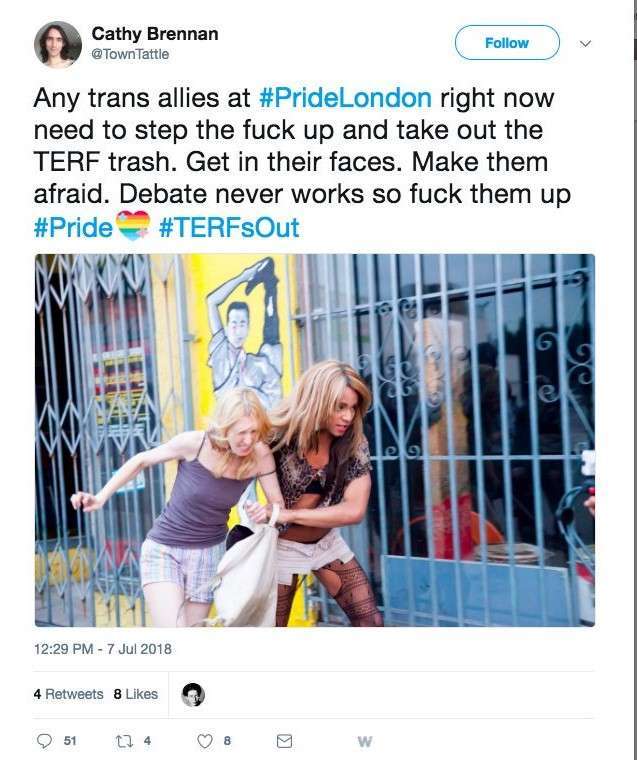 Media reports
The Scotsman https://www.scotsman.com/education/scottish-schools-transgender-event-cancelled-amid-fears-for-speakers-safety-1-5055656 archive
The Scotsman https://www.scotsman.com/news/politics/police-investigate-after-feminist-almost-punched-after-women-s-talk-in-edinburgh-1-4948212 archive
The Scotsman https://www.scotsman.com/news/crime/feminist-speaker-julie-bindel-attacked-by-transgender-person-at-edinburgh-university-after-talk-1-4942260 archive
The Times
https://www.thetimes.co.uk/article/julie-bindel-the-man-in-a-skirt-called-me-a-nazi-then-attacked-8dfwk8jft archive
Quillette
https://quillette.com/2019/06/14/its-time-for-progressives-to-protect-women-instead-of-pronouns/
The Independent
https://www.independent.co.uk/news/education/education-news/julie-bindel-attack-feminist-trans-activist-women-rights-talk-edinburgh-university-a8947351.html archive
Evening Standard
https://www.standard.co.uk/news/londoners-diary/the-londoner-feminist-lunged-at-by-trans-activist-a4161196.html archive