Carol Lea
Carol Lea, a male who identifies as a trans woman, was convicted at Liverpool Magistrates Court in May 2019 of possession of an offensive weapon and using threatening, abusive or insulting words or behaviour.
Lea, 55, was fined £120 for possessing a hammer, another £85 for the threatening behaviour, court costs of £85 and a victim surcharge of £30.
In several videos widely posted on social media and in online news coverage, a teenager is seen being repeatedly and extremely violently assaulted and having to defend herself from Carol Lea wielding the hammer. The young woman needed hospital treatment for a head injury. We have chosen not to post the videos as they are so distressing.
Despite being male and being accompanied by a female partner, (not to mention clearly being the aggressor wielding a hammer in the videos) Lea claimed to have been attacked in a "homophobic" outburst.
Media coverage suggests a row over a parking space preceded the attack, and the videos appear to show Lea attacking the young woman as the passenger in the car – i.e. not her male companion, the driver (who presumably parked the car).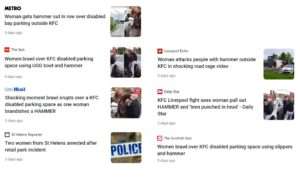 All coverage and headlines report Lea as a woman and suggest it was female on female violence. The local police also referred to two women (Lea and a female accomplice) being arrested.
Worryingly, a publicly available LinkedIn profile for a Carole Lea indicates a history of working with young people via the charity Gingerbread, employment by North West NHS as "discussing Gender to Students at Liverpool Hope University and Wirral Hospital Trust" and five years as "trainer to Merseyside Police in areas of Equality and Diversity, trained staff at all levels of the Police force."
The Times recently exposed several police forces in the UK using transgender activists with a record of using insulting language or even violence against women, to deliver supposed equality and diversity training sessions, including admitted domestic violence perpetrator Frank/Kellie Maloney and Kyle/Zoe Watts, the Police Community Support Officer (PCSO) who was convicted of bomb-making charges. In 2018, a violent male trans activist, Tanis Wolf/Tara Wood, was convicted of assaulting a feminist activist at Speaker's Corner, as was Joe Brennan after an event in Edinburgh discussing – aptly – male violence against women.
Photo credit: Video screengrab via Metro
Media reports
Liverpool Echo
https://www.liverpoolecho.co.uk/news/liverpool-news/shocking-moment-woman-uses-hammer-16349776 archive
Metro
https://metro.co.uk/2019/05/10/woman-gets-hammer-row-disabled-bay-parking-outside-kfc-9487975/ archive
Liverpool Echo
https://www.liverpoolecho.co.uk/news/liverpool-news/woman-attacks-people-hammer-outside-16254501 archive
The Sun
https://www.thesun.co.uk/news/9047409/women-brawl-kfc-disabled-parking-space-liverpool/ archive
Daily Mail https://www.dailymail.co.uk/news/article-7014213/Shocking-moment-brawl-erupts-KFC-disabled-parking-space-one-woman-brandishes-HAMMER.html archive
St Helens Star
https://www.sthelensstar.co.uk/news/17631710.two-women-arrested-after-car-park-fight-involving-hammer-threat/ archive