Theale Station Transvestite Sex Offender
In October 2022, British Transport Police (BTP) in Berkshire issued an appeal to identify a (male transvestite) sex offender who approached the window of a train where two children (teenage girls aged 15 and 16) were sitting, and exposed his penis before making lewd hand gestures in their direction. He then walked into a shelter at the station and masturbated.
The appeal and tweet issued by the BTP pretended not to know that this sex offender is male – referring only to a 'person' sought and using 'they' as a pronoun and giving no physical description of the suspect who is dressed in stereotypically female clothes and a purple wig. This is despite the fact that the girls would be perfectly capable of identifying whether the genitals exposed to them were a penis or a vulva. When asked by the Daily Mail, the BTP repeatedly refused to disclose whether the suspected flasher dressed in a wig and skirt exposed male or female genitals to the two teenage girls on a train.  ITV News also covered the criticism BTP received after not including the sex of the offender in the CCTV appeal or a description.
As one Twitter user put it – why would the police prioritise potential "misgendering" over catching someone who flashes and masturbates at girls in public? Particularly as we know that men who expose their genitals to women and girls often go on to commit further violent sex offences – such as the police officer Wayne Couzens who has now been charged with six counts of indecent exposure, which he (allegedly) perpetrated prior to raping and murdering Sarah Everard.
Police obfuscating the sex of a suspect if they are men dressed in stereotypically female clothes/wigs is becoming a pattern and likely, therefore, sacrificing chances to catch them in favour of pandering to men and their paraphilias. For example, an absconded male rapist called Craig Hauxwell was described by police as "Leeds Woman Lisa Lacey" who has "used a male identity." Likewise, a 2020 police appeal for witnesses in Hertfordshire failed to mention the key identifying feature that the suspect was a male person dressed in women's clothes and neither the suspect's sex nor a physical description were provided.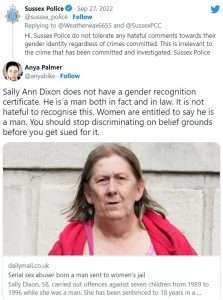 This obfuscation by the police also obscures male violence against women and girls – note how the perpetrator in this case at Theale station and those linked below tend to be male (and older) and the victims tend to be female (and young). In September 2022, Sussex Police received intense criticism for describing a convicted trans-identified male paedophile – John/Sally Ann Dixon – as a woman and then issuing thinly veiled threats towards women who objected, before being reigned in by the Home Secretary and changing the press release title. In 2019, Merseyside Police described a violent trans-identified male, Carol Lea (who attacked a female teenager with a hammer) as a woman, and in 2018, Hertforshire Constabulary issued a press release (archived here) describing convicted trans-identified male paedophile Gary/Carrie Cooper as a woman. They received significant pushback from members of the public for ascribing a violent male paedophile's appalling crimes to women, and subsequently deleted the tweet that linked to the press release.
If you recognise this male sex offender, or have any information, please contact BTP by texting 61016 or calling 0800 40 50 40 quoting reference 2200089694. Alternatively, you can call Crimestoppers anonymously on 0800 555 111.
See this tag for other examples of trans-identified males committing sexual and/or violent offences on public transport
See this tag for endless examples of other trans-identified males who commit offences while cross dressing, including similar indecent exposure/public masturbation offences in Bournemouth, Brighton, Bristol, Burnley, Chester, Cleethorpes, Dunfermline, Eastbourne, Exeter, Gateshead, Glasgow, Havant, Haverfordwest, Hull, Islington, Kinross, Leicester, Londonderry, Manchester, Middlesbrough, Pontefract, Poole, Redditch, Sheffield, Stockton, Swindon, Teignmouth, Telford, Wilmslow, Worcester
Archived link to BTP tweet here
Archived link to BTP appeal here
Media reports
Daily Mail https://www.dailymail.co.uk/news/article-11363631/MP-blasts-police-putting-alleged-attackers-identity-feelings-victims.html archive
ITV News https://www.itv.com/news/meridian/2022-10-28/btp-criticised-after-not-identifying-gender-of-person-in-cctv-appeal archive
Berkshire Live https://www.getreading.co.uk/news/reading-berkshire-news/theale-station-flasher-made-lewd-25367438 archive
Reading Chronicle https://www.readingchronicle.co.uk/news/23083178.theale-train-station-exposure—cctv-appeal/ archive